Position and routes of your fleet always under control
Precise position and routes
Know the status of your entire fleet in real time: position and routes, distance traveled, departure, arrival and idle times for each individual vehicle.
Complete control of the situation
See if your vehicles are stationary or moving; if their engines are on or off.
With you wherever you go
Monitor the situation from any internet-connected device: computer, tablet or smartphone.
Check routes
By clicking the icon of each vehicle you can immediately view the trip that it has just taken.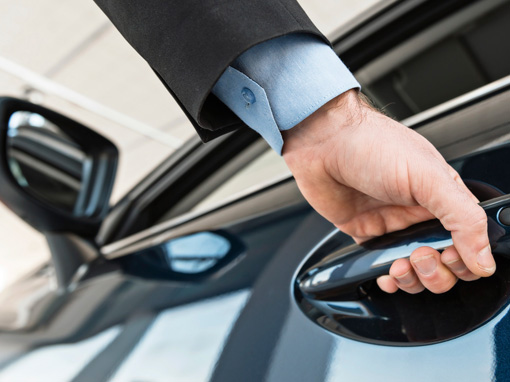 Improved efficiency
Calculate the times and distances between one of your vehicles and a specific destination, while monitoring up-to-the-minute traffic information, so that you can efficiently plan your entire fleet's job assignments always taking a look at the position and routes.
Send drivers their job assignments
Directly notify operators of their destinations,position and routes, thanks to the onboard GPS Garmin navigation system that is connected to the MyWakes GPS device, thereby cutting down task planning times.
Google Street View
Thanks to the agreement with Google, not only can you access the maps on Google Maps over a secure HTTPS connection, but you can also access the satellite images and Google Street View.
In this way you can verify the actual position and routes of each vehicle, checking for idling in specific areas, such as warehouses, parking lots, historic city centers and restaurants or checking that the vehicles are not stopped near any no-entry areas, restricted traffic areas, gates or road obstacles.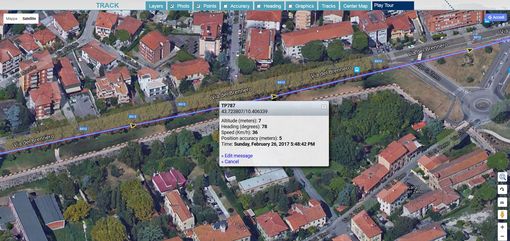 It's immediate
Immediately see the positions (and duration) where your vehicle is idle or stopped directly on the map.
It's customisable
Set your preferred units of measurement and your time zone.
It's precise
The combined GPS, GLONASS and GPRS technologies allow for extremely precise point positioning.
Analyze position and routes
MyWakes maps the trips that each of your vehicles has made.
You can monitor distance traveled, drive times, positions where vehicles were idle or stopped, average speeds and speeds at any point along the route.
You can view the graphs showing changes in speed and altitude over time.
Thanks to fuel level and temperature sensors, you can also view the graphs tracking the changes in these two factors.
Location history
MyWakes guarantees 12 months of data history.
Choose a track to see detailed information, including stats on speeds, altitudes, drive times; view the map or satellite image, as well as lots of other data.
You can extract position and routes information over a several day period and combine different tracks.
You can then export these routes onto GPX (GPS Exchange Format) files.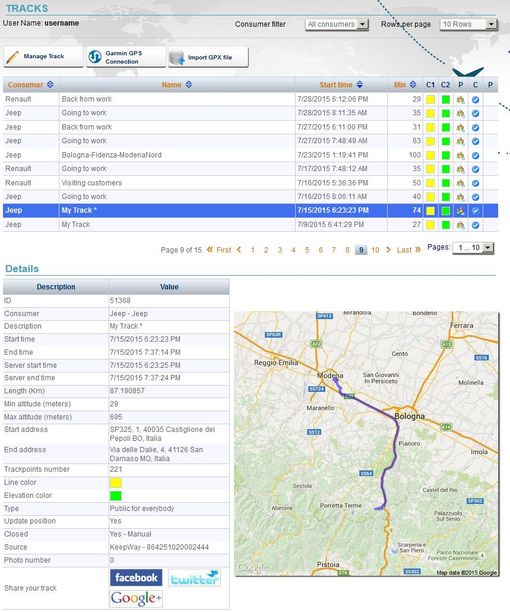 Events and actions
MyWakes provides dozens of different types of fully configurable alarms and events for the safety and security of your fleet.
You can be notified via SMS, email, phone call or by triggering an alert to a third party server via our webhooks.
Each activated alarm can provide details of the event that triggered it, such as exact time, address, vehicle licence plate, speed, etc.
Monitor situations such as the following:
engine start-up with anti-theft system armed
temperature in refrigerated truck is exceeded
vehicle exits a 2D or 3D virtual boundary
movement within an area
vehicle is idle or stopped at POIs
a set speed is exceeded
position and routes
movement with engine off (towing)
departure from a set route
movement of vehicle during off-hours
excessive drop in fuel level
engine lock/unlock
and many more…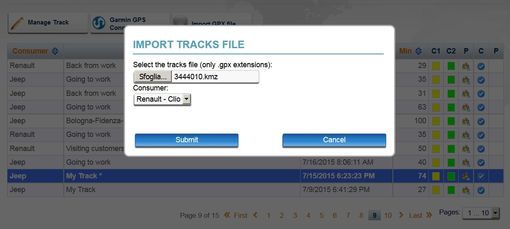 Odometer
Measure the distances that your vehicles have traveled in order to plan scheduled maintenance and improve fleet management, especially for long term hires.
Hour meter
For the management of heavy equipment, industrial vehicles and construction site machinery it is of upmost importance to supplement GPS data with information on running times, position and routes. MyWakes is also useful with vehicles that do not travel extensively but are still subject to wear and tear relating to hours of operation.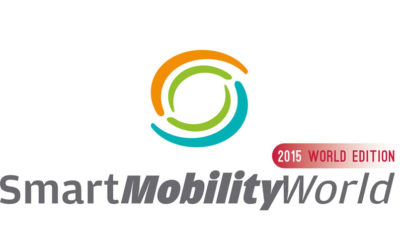 The Monza Circuit hosts the future smart mobility automotive My Wakes will be at Smart Mobility World 2015 that will take place on 28 – 30 October 2015 on the renowned Monza Circuit. Three days dedicated to new technologies for automotive innovation,...
read more
<style type="text/css"><!--#Cloud .center .content ol{list-style-type:none;padding:0;margin:5px 5px 5px 5px;text-align:left;}#Cloud .center .content li{display:inline !important;padding:0 5px 0 0;}#Cloud{width:300px;left:8px;border:0px;}#Cloud .header{height:20px;display:block;width:300px;color:#797979;font-size:12px;line-height:18px;margin:0;padding-top:5px;text-align:center;text-transform:uppercase;}#Cloud .center{display:block;width:300px;background:#fff;margin:0;padding:0;}#Cloud .center .content{font-family:'Georgia' ,serif;padding:4px;line-height:27px;overflow:hidden;}#Cloud .center .content .cl1{color:#a9a9a9;font-size:10px;font-weight:400;letter-spacing:0;text-decoration:none;}#Cloud .center .content .cl2{color:#a9a9a9;font-size:12px;font-weight:400;letter-spacing:0;text-decoration:none;}#Cloud .center .content .cl3{color:#a9a9a9;font-size:14px;font-weight:400;letter-spacing:0;text-decoration:none;}#Cloud .center .content .cl4{color:#a9a9a9;font-size:16px;font-weight:400;letter-spacing:0;text-decoration:none;}#Cloud .center .content .cl5{color:#a9a9a9;font-size:18px;font-weight:400;letter-spacing:0;text-decoration:none;}#Cloud .center .content .cl6{color:#a9a9a9;font-size:20px;font-weight:400;letter-spacing:0;text-decoration:none;}#Cloud .center .content .cl6{color:#a9a9a9;font-size:26px;font-weight:400;letter-spacing:0;text-decoration:none;}#Cloud .center .content .cl7{color:#a9a9a9;font-size:28px;font-weight:400;letter-spacing:0;text-decoration:none;}#Cloud .center .content a:hover{text-decoration:underline;}#Cloud .footer{display:block;width:100%;height:5px;background-position:-10px -526px;}//--></style><div id="Cloud"><div class="header">Cloud</div><div class="center"><div class="content"><ol> <li><a href="http://www.mywakes.eu/mywakes/?s=cloud" class="cl2">cloud</a></li> <li><a href="http://www.mywakes.eu/mywakes/?s=GPS tracker" class="cl7">GPS tracker</a></li> <li><a href="http://www.mywakes.eu/mywakes/?s=tracking platform" class="cl6">tracking platform</a></li> <li><a href="http://www.mywakes.eu/mywakes/?s=GPS" class="cl4">GPS</a></li> <li><a href="http://www.mywakes.eu/mywakes/?s=Garmin GPS" class="cl6">Garmin GPS</a></li> <li><a href="http://www.mywakes.eu/mywakes/?s=charts" class="cl3">charts</a></li> <li><a href="http://www.mywakes.eu/mywakes/?s=IoT" class="cl4">IoT</a></li> <li><a href="http://www.mywakes.eu/mywakes/?s=Internet of things" class="cl3">Internet of things</a></li> <li><a href="http://www.mywakes.eu/mywakes/?s=developers" class="cl4">developers</a></li> <li><a href="http://www.mywakes.eu/mywakes/?s=sdk" class="cl2">sdk</a></li> <li><a href="http://www.mywakes.eu/mywakes/?s=TomTom" class="cl3">TomTom</a></li> <li><a href="http://www.mywakes.eu/mywakes/?s=localization" class="cl5">localization</a></li> <li><a href="http://www.mywakes.eu/mywakes/?s=georss" class="cl2">georss</a></li> <li><a href="http://www.mywakes.eu/mywakes/?s=flight tracker" class="cl7">flight tracker</a></li> <li><a href="http://www.mywakes.eu/mywakes/?s=google earth" class="cl3">google earth</a></li> <li><a href="http://www.mywakes.eu/mywakes/?s=gpx" class="cl3">gpx</a></li> <li><a href="http://www.mywakes.eu/mywakes/?s=google maps" class="cl3">google maps</a></li> <li><a href="http://www.mywakes.eu/mywakes/?s=POI" class="cl3">POI</a></li> <li><a href="http://www.mywakes.eu/mywakes/?s=senior care" class="cl5">senior care</a></li> <li><a href="http://www.mywakes.eu/mywakes/?s=kml" class="cl2">kml</a></li> <li><a href="http://www.mywakes.eu/mywakes/?s=kmz" class="cl2">kmz</a></li> <li><a href="http://www.mywakes.eu/mywakes/?s=kids tracker" class="cl7">kids tracker</a></li> <li><a href="http://www.mywakes.eu/mywakes/?s=pets tracker" class="cl7">pets tracker</a></li> <li><a href="http://www.mywakes.eu/mywakes/?s=GPS locator" class="cl2">GPS locator</a></li> <li><a href="http://www.mywakes.eu/mywakes/?s=alerts" class="cl7">alerts</a></li> <li><a href="http://www.mywakes.eu/mywakes/?s=alarms" class="cl5">alarms</a></li> <li><a href="http://www.mywakes.eu/mywakes/?s=connected" class="cl4">connected</a></li> <li><a href="http://www.mywakes.eu/mywakes/?s=vehicle" class="cl2">vehicle</a></li> <li><a href="http://www.mywakes.eu/mywakes/?s=fleet management" class="cl5">fleet management</a></li> <li><a href="http://www.mywakes.eu/mywakes/?s=monitor" class="cl4">monitor</a></li> <li><a href="http://www.mywakes.eu/mywakes/?s=drivers" class="cl5">drivers</a></li> <li><a href="http://www.mywakes.eu/mywakes/?s=UBI" class="cl4">UBI</a></li> <li><a href="http://www.mywakes.eu/mywakes/?s=points" class="cl2">points</a></li> <li><a href="http://www.mywakes.eu/mywakes/?s=position" class="cl4">position</a></li> <li><a href="http://www.mywakes.eu/mywakes/?s=layer" class="cl2">layer</a></li> <li><a href="http://www.mywakes.eu/mywakes/?s=GPS devices" class="cl4">GPS devices</a></li> <li><a href="http://www.mywakes.eu/mywakes/?s=can bus" class="cl3">can bus</a></li> <li><a href="http://www.mywakes.eu/mywakes/?s=OBD" class="cl4">OBD</a></li> <li><a href="http://www.mywakes.eu/mywakes/?s=trip" class="cl2">trip</a></li> <li><a href="http://www.mywakes.eu/mywakes/?s=missions" class="cl2">missions</a></li></ol><div class="clear" style="height:7px;"></div></div><div class="footer"></div></div></div>