Increase your control with sensors and accessories
Save fuel with car tracker
An ultrasonic sensor on your fuel tank linked with your car tracker will alert you in case of fuel theft.
Temperatures under control
Use temperature sensors to monitor refrigerated trucks.
Motion detection no only for car tracker
The accelerometers installed in our car trackers detect towing events and enable smart battery power conservation.
Capture all your data
Install a CAN BUS decoder kit to capture all your vehicle's data.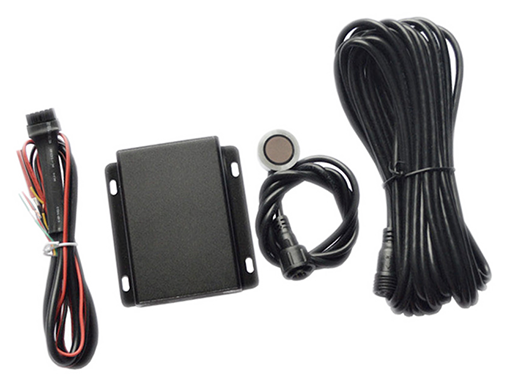 Ultrasonic fuel tank sensor
With an ultrasonic tank sensor you can monitor fuel consumption and detect possible fuel leaks or theft.
MyWakes allows you to monitor multiple tanks for each vehicle and in the event of a sudden drop in the fuel level you can set the device to send an alert, enabling you to check consumption figures on your entire fleet.
Temperature control
With temperature sensors you can monitor the temperature of each vehicle's cold store unit in order to control cold chain conditions, supported by charts of the temperature readings.
You can also set the alarms to activate in the event of excessive increases or drops in temperature.
Finally, you can generate reports to view the minimum, average and maximum temperatures that were maintained during the trip.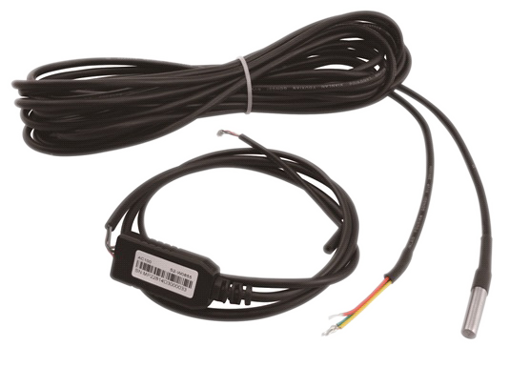 Implement GPS functions
Our optional features allow you to obtain useful data on all aspects regarding your vehicles.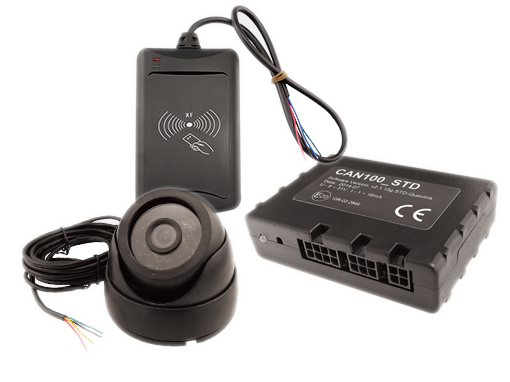 Link to the vehicle's BUS
Capture data from the digital BUS (CAN and J1708) to read all the information on your vehicle.
Live from the cabin
Connecting the webcam and hands-free kit enables real-time communication with the driver and remote surveillance by the control centre.
Driver ID
You can use our RFID reader, which is compatible with MIFARE Mini, MIFARE Ultralight, MIFARE DESFire EV1, MIFARE Plus, MIFARE ONE (S50), MIFARE ONE (S70), MIFARE Pro (X) Encryption Memory) and iButtons (Dallas keys), to identify a driver and enable only authorized personnel to start the vehicle's engine.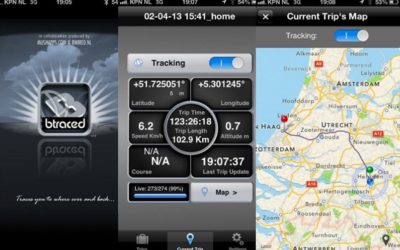 MyWakes supports bTraced: the mobile app that allows iPhone and Android smartphone GPS tracking. Using a smartphone app to track your movements is now possible thanks to the new interface developed by MyWakes for bTraced tracking app. BTraced App is available for iOS...
read more
<style type="text/css"><!--#Cloud .center .content ol{list-style-type:none;padding:0;margin:5px 5px 5px 5px;text-align:left;}#Cloud .center .content li{display:inline !important;padding:0 5px 0 0;}#Cloud{width:300px;left:8px;border:0px;}#Cloud .header{height:20px;display:block;width:300px;color:#797979;font-size:12px;line-height:18px;margin:0;padding-top:5px;text-align:center;text-transform:uppercase;}#Cloud .center{display:block;width:300px;background:#fff;margin:0;padding:0;}#Cloud .center .content{font-family:'Georgia' ,serif;padding:4px;line-height:27px;overflow:hidden;}#Cloud .center .content .cl1{color:#a9a9a9;font-size:10px;font-weight:400;letter-spacing:0;text-decoration:none;}#Cloud .center .content .cl2{color:#a9a9a9;font-size:12px;font-weight:400;letter-spacing:0;text-decoration:none;}#Cloud .center .content .cl3{color:#a9a9a9;font-size:14px;font-weight:400;letter-spacing:0;text-decoration:none;}#Cloud .center .content .cl4{color:#a9a9a9;font-size:16px;font-weight:400;letter-spacing:0;text-decoration:none;}#Cloud .center .content .cl5{color:#a9a9a9;font-size:18px;font-weight:400;letter-spacing:0;text-decoration:none;}#Cloud .center .content .cl6{color:#a9a9a9;font-size:20px;font-weight:400;letter-spacing:0;text-decoration:none;}#Cloud .center .content .cl6{color:#a9a9a9;font-size:26px;font-weight:400;letter-spacing:0;text-decoration:none;}#Cloud .center .content .cl7{color:#a9a9a9;font-size:28px;font-weight:400;letter-spacing:0;text-decoration:none;}#Cloud .center .content a:hover{text-decoration:underline;}#Cloud .footer{display:block;width:100%;height:5px;background-position:-10px -526px;}//--></style><div id="Cloud"><div class="header">Cloud</div><div class="center"><div class="content"><ol> <li><a href="http://www.mywakes.eu/mywakes/?s=cloud" class="cl2">cloud</a></li> <li><a href="http://www.mywakes.eu/mywakes/?s=GPS tracker" class="cl7">GPS tracker</a></li> <li><a href="http://www.mywakes.eu/mywakes/?s=tracking platform" class="cl6">tracking platform</a></li> <li><a href="http://www.mywakes.eu/mywakes/?s=GPS" class="cl4">GPS</a></li> <li><a href="http://www.mywakes.eu/mywakes/?s=Garmin GPS" class="cl6">Garmin GPS</a></li> <li><a href="http://www.mywakes.eu/mywakes/?s=charts" class="cl3">charts</a></li> <li><a href="http://www.mywakes.eu/mywakes/?s=IoT" class="cl4">IoT</a></li> <li><a href="http://www.mywakes.eu/mywakes/?s=Internet of things" class="cl3">Internet of things</a></li> <li><a href="http://www.mywakes.eu/mywakes/?s=developers" class="cl4">developers</a></li> <li><a href="http://www.mywakes.eu/mywakes/?s=sdk" class="cl2">sdk</a></li> <li><a href="http://www.mywakes.eu/mywakes/?s=TomTom" class="cl3">TomTom</a></li> <li><a href="http://www.mywakes.eu/mywakes/?s=localization" class="cl5">localization</a></li> <li><a href="http://www.mywakes.eu/mywakes/?s=georss" class="cl2">georss</a></li> <li><a href="http://www.mywakes.eu/mywakes/?s=flight tracker" class="cl7">flight tracker</a></li> <li><a href="http://www.mywakes.eu/mywakes/?s=google earth" class="cl3">google earth</a></li> <li><a href="http://www.mywakes.eu/mywakes/?s=gpx" class="cl3">gpx</a></li> <li><a href="http://www.mywakes.eu/mywakes/?s=google maps" class="cl3">google maps</a></li> <li><a href="http://www.mywakes.eu/mywakes/?s=POI" class="cl3">POI</a></li> <li><a href="http://www.mywakes.eu/mywakes/?s=senior care" class="cl5">senior care</a></li> <li><a href="http://www.mywakes.eu/mywakes/?s=kml" class="cl2">kml</a></li> <li><a href="http://www.mywakes.eu/mywakes/?s=kmz" class="cl2">kmz</a></li> <li><a href="http://www.mywakes.eu/mywakes/?s=kids tracker" class="cl7">kids tracker</a></li> <li><a href="http://www.mywakes.eu/mywakes/?s=pets tracker" class="cl7">pets tracker</a></li> <li><a href="http://www.mywakes.eu/mywakes/?s=GPS locator" class="cl2">GPS locator</a></li> <li><a href="http://www.mywakes.eu/mywakes/?s=alerts" class="cl7">alerts</a></li> <li><a href="http://www.mywakes.eu/mywakes/?s=alarms" class="cl5">alarms</a></li> <li><a href="http://www.mywakes.eu/mywakes/?s=connected" class="cl4">connected</a></li> <li><a href="http://www.mywakes.eu/mywakes/?s=vehicle" class="cl2">vehicle</a></li> <li><a href="http://www.mywakes.eu/mywakes/?s=fleet management" class="cl5">fleet management</a></li> <li><a href="http://www.mywakes.eu/mywakes/?s=monitor" class="cl4">monitor</a></li> <li><a href="http://www.mywakes.eu/mywakes/?s=drivers" class="cl5">drivers</a></li> <li><a href="http://www.mywakes.eu/mywakes/?s=UBI" class="cl4">UBI</a></li> <li><a href="http://www.mywakes.eu/mywakes/?s=points" class="cl2">points</a></li> <li><a href="http://www.mywakes.eu/mywakes/?s=position" class="cl4">position</a></li> <li><a href="http://www.mywakes.eu/mywakes/?s=layer" class="cl2">layer</a></li> <li><a href="http://www.mywakes.eu/mywakes/?s=GPS devices" class="cl4">GPS devices</a></li> <li><a href="http://www.mywakes.eu/mywakes/?s=can bus" class="cl3">can bus</a></li> <li><a href="http://www.mywakes.eu/mywakes/?s=OBD" class="cl4">OBD</a></li> <li><a href="http://www.mywakes.eu/mywakes/?s=trip" class="cl2">trip</a></li> <li><a href="http://www.mywakes.eu/mywakes/?s=missions" class="cl2">missions</a></li></ol><div class="clear" style="height:7px;"></div></div><div class="footer"></div></div></div>