KittWay: the advanced GPS tracker
The invisible GPS tracker
Install your GPS tracker KittWay and hide it anywhere thanks to the external GPS antenna.
All information
Monitor all aspects of the vehicle, thanks to the direct connection to its control unit.
Instant diagnostics
Keep up with the vehicles' diagnostics by getting all notifications sent directly to the tracking platform.
Dual antenna
The GPS tracker has unparalleled satellite reception thanks to the dual GPS and GLONASS antenna feature.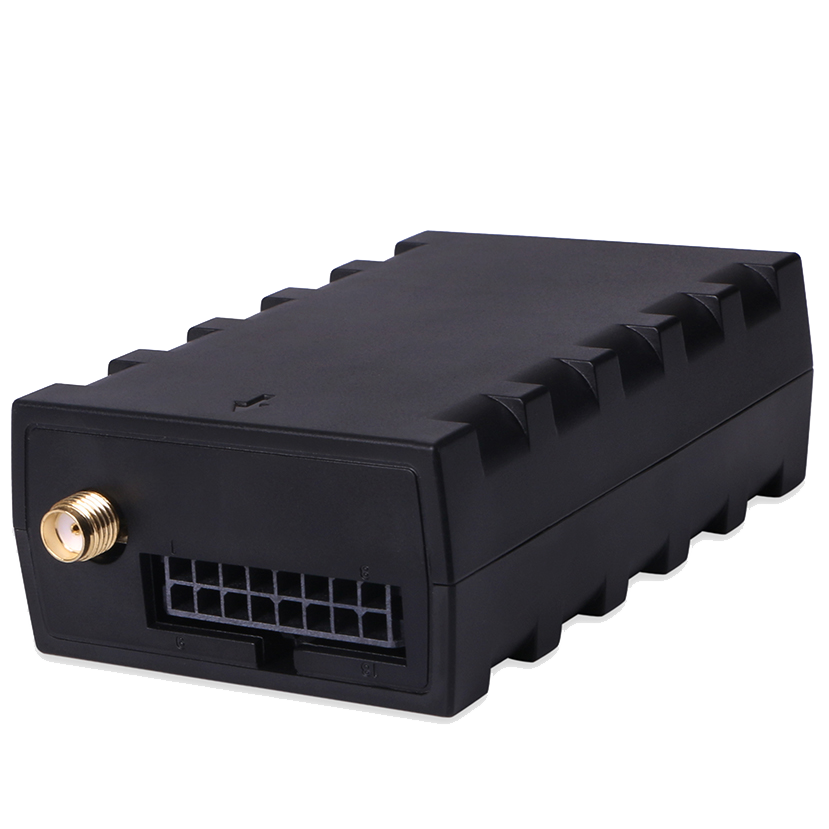 Powerful GPS tracker
KittWay is a compact GPS tracker and locator designed for a wide variety of uses. Featuring multiple I/O interfaces, it can monitor and manage all types of external sensors and equipment.
Compact and complete
This compact tracker is designed for hidden installation within the vehicle. It features an internal and external GPS antenna and internal backup battery.
Smart technology
The integrated GPS receiver has superior sensitivity and fast time to first fix. The external antenna enables the device to be hidden anywhere, making it completely invisible when installed.
Driver management
The 3-axis accelerometer, which detects motion, identifies inappropriate driving styles by recognizing hard braking and aggressive acceleration. It also detects direction, idling, device connections and disconnections, etc. Used with the driver ID kit with RFID card reader, makes the GPS tracker a complete driver management system.
Real time management
Thanks to the Quad-band GPRS/GSM chipset that supports 850/900/1800/1900 MHz, KittWay is able to send its position to the MyWakes platform in real time.
In the event of network failure, KittWay will start saving the position in its internal memory (up to 10'000 positions) and as soon as the connection is restored, it will send the entire memory to MyWakes.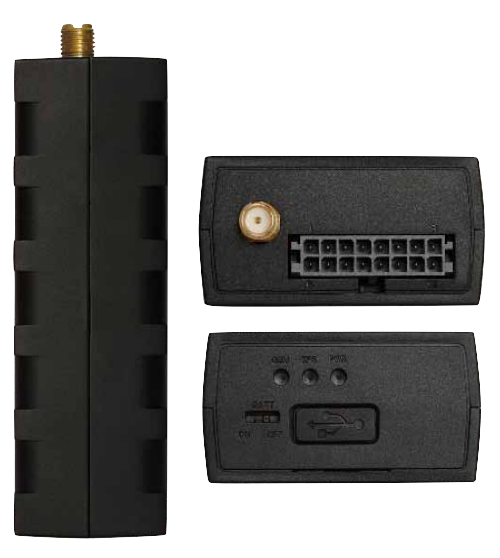 The GPS tracker that don't miss a point
The GPS tracker uses the internal memory to save tracks when no GPRS signal is available.
As soon as the signal is restored, KittWay will download the buffer onto the platform, showing you all the points.
GPS tracker internal battery
Raise an alarm if the KittWay is disconnected from the vehicle and it will continue to trace.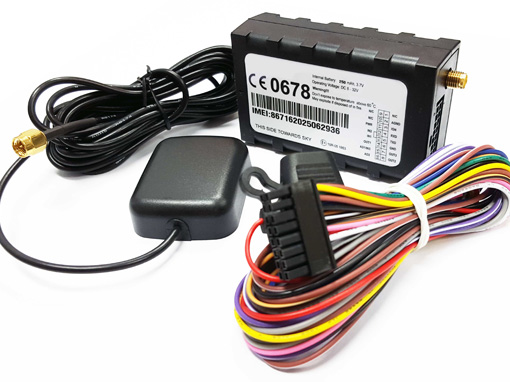 Infinitely expandable
It allows you to set options such as remote control, it detects a wide range of events, it reads CAN bus data and, through the external sensors, it detects fuel level and temperature, it identifies drivers, it interacts with the Garmin navigation system, it monitors driving styles and it does much more.
Input/output interfaces
KittWay features input interfaces for the connection of numerous sensors and output communication ports. A serial interface enables connection of the fuel level sensor, temperature sensors, video camera, Garmin navigation system or CAN bus reader.
Sensitivity
Autonomous: -147 dBm
Hot start: -156 dBm
Reacquisition: -160 dBm
Tracking: -162 dBm
GPS Chipset
u-blox All-In-One GPS receiver
Accuracy
Autonomous: < 2.5m
SBAS: < 2.0m
TTFF (Open Sky)
Cold start: 27s media
Warm start: 27s media
Hot start: 1s media
Operating temperature
-30℃ ~ +70℃; -40℃ ~ +80℃ for storage
Frequency
Class 4 (33±2 dBm) for GSM 850 and EGSM 900
Class 1 (30±2 dBm) for DCS 1800 and PCS 1900
Class 3 (24+1/-3 dBm) for UMTS 850/1900/2100
HSDPA and WCDMA
HSDPA data rate equal to 3GPP R5. 3.6 Mbps download
WCDMA data rate equal to 3GPP R99/R4. 384 kbps downlaod and 384 kbps upload
Supports modulation 16-QAM e QPSK
Transmission
GPRS multi-slot class 12; GPRS mobile station class B
GSM/GPRS data
Support GPRS multi-slot class 12 (10 by default)
Coding scheme: CS-1, CS-2, CS-3, CS-4
Max four Rx time slots per frame
Data
HSDPA R5: Max 3.6 Mbps (DL)
WCDMA R99: Max 384 kbps (DL)/Max 384 kbps (UL)
GPRS: Max 85.6 kbps (DL)/Max 85.6 kbps (UL)
Digital input
Three digital input
One positive trigger for ignition
Two negative input triggers
Two way audio
Two differential output with one single input
Customizable input
One input can be set digital or analog (0-16V)
Digital output
One digital output with internal circuit, 150 mA max
Mini USB port
Mini USB port for upgrading and debugging
Analog input
One analog input (0.3-16V)
UMTS/HSDPA and GSM antennas
Serial port
One RS232 serial port with 16 pin molex connector, to connect external devices (also with GARMIN FMI protocol support)
Digital output
Two digital output, open drain, 150 mA max
GPS Antenna
Internal, optionally external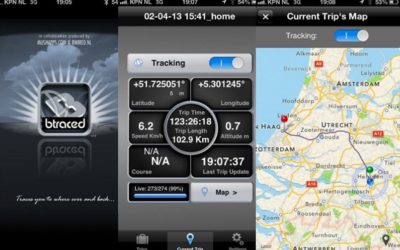 MyWakes supports bTraced: the mobile app that allows iPhone and Android smartphone GPS tracking. Using a smartphone app to track your movements is now possible thanks to the new interface developed by MyWakes for bTraced tracking app. BTraced App is available for iOS...
read more
KittWay GPS Tracker @ Shop
<style type="text/css"><!--#Cloud .center .content ol{list-style-type:none;padding:0;margin:5px 5px 5px 5px;text-align:left;}#Cloud .center .content li{display:inline !important;padding:0 5px 0 0;}#Cloud{width:300px;left:8px;border:0px;}#Cloud .header{height:20px;display:block;width:300px;color:#797979;font-size:12px;line-height:18px;margin:0;padding-top:5px;text-align:center;text-transform:uppercase;}#Cloud .center{display:block;width:300px;background:#fff;margin:0;padding:0;}#Cloud .center .content{font-family:'Georgia' ,serif;padding:4px;line-height:27px;overflow:hidden;}#Cloud .center .content .cl1{color:#a9a9a9;font-size:10px;font-weight:400;letter-spacing:0;text-decoration:none;}#Cloud .center .content .cl2{color:#a9a9a9;font-size:12px;font-weight:400;letter-spacing:0;text-decoration:none;}#Cloud .center .content .cl3{color:#a9a9a9;font-size:14px;font-weight:400;letter-spacing:0;text-decoration:none;}#Cloud .center .content .cl4{color:#a9a9a9;font-size:16px;font-weight:400;letter-spacing:0;text-decoration:none;}#Cloud .center .content .cl5{color:#a9a9a9;font-size:18px;font-weight:400;letter-spacing:0;text-decoration:none;}#Cloud .center .content .cl6{color:#a9a9a9;font-size:20px;font-weight:400;letter-spacing:0;text-decoration:none;}#Cloud .center .content .cl6{color:#a9a9a9;font-size:26px;font-weight:400;letter-spacing:0;text-decoration:none;}#Cloud .center .content .cl7{color:#a9a9a9;font-size:28px;font-weight:400;letter-spacing:0;text-decoration:none;}#Cloud .center .content a:hover{text-decoration:underline;}#Cloud .footer{display:block;width:100%;height:5px;background-position:-10px -526px;}//--></style><div id="Cloud"><div class="header">Cloud</div><div class="center"><div class="content"><ol> <li><a href="http://www.mywakes.eu/mywakes/?s=cloud" class="cl2">cloud</a></li> <li><a href="http://www.mywakes.eu/mywakes/?s=GPS tracker" class="cl7">GPS tracker</a></li> <li><a href="http://www.mywakes.eu/mywakes/?s=tracking platform" class="cl6">tracking platform</a></li> <li><a href="http://www.mywakes.eu/mywakes/?s=GPS" class="cl4">GPS</a></li> <li><a href="http://www.mywakes.eu/mywakes/?s=Garmin GPS" class="cl6">Garmin GPS</a></li> <li><a href="http://www.mywakes.eu/mywakes/?s=charts" class="cl3">charts</a></li> <li><a href="http://www.mywakes.eu/mywakes/?s=IoT" class="cl4">IoT</a></li> <li><a href="http://www.mywakes.eu/mywakes/?s=Internet of things" class="cl3">Internet of things</a></li> <li><a href="http://www.mywakes.eu/mywakes/?s=developers" class="cl4">developers</a></li> <li><a href="http://www.mywakes.eu/mywakes/?s=sdk" class="cl2">sdk</a></li> <li><a href="http://www.mywakes.eu/mywakes/?s=TomTom" class="cl3">TomTom</a></li> <li><a href="http://www.mywakes.eu/mywakes/?s=localization" class="cl5">localization</a></li> <li><a href="http://www.mywakes.eu/mywakes/?s=georss" class="cl2">georss</a></li> <li><a href="http://www.mywakes.eu/mywakes/?s=flight tracker" class="cl7">flight tracker</a></li> <li><a href="http://www.mywakes.eu/mywakes/?s=google earth" class="cl3">google earth</a></li> <li><a href="http://www.mywakes.eu/mywakes/?s=gpx" class="cl3">gpx</a></li> <li><a href="http://www.mywakes.eu/mywakes/?s=google maps" class="cl3">google maps</a></li> <li><a href="http://www.mywakes.eu/mywakes/?s=POI" class="cl3">POI</a></li> <li><a href="http://www.mywakes.eu/mywakes/?s=senior care" class="cl5">senior care</a></li> <li><a href="http://www.mywakes.eu/mywakes/?s=kml" class="cl2">kml</a></li> <li><a href="http://www.mywakes.eu/mywakes/?s=kmz" class="cl2">kmz</a></li> <li><a href="http://www.mywakes.eu/mywakes/?s=kids tracker" class="cl7">kids tracker</a></li> <li><a href="http://www.mywakes.eu/mywakes/?s=pets tracker" class="cl7">pets tracker</a></li> <li><a href="http://www.mywakes.eu/mywakes/?s=GPS locator" class="cl2">GPS locator</a></li> <li><a href="http://www.mywakes.eu/mywakes/?s=alerts" class="cl7">alerts</a></li> <li><a href="http://www.mywakes.eu/mywakes/?s=alarms" class="cl5">alarms</a></li> <li><a href="http://www.mywakes.eu/mywakes/?s=connected" class="cl4">connected</a></li> <li><a href="http://www.mywakes.eu/mywakes/?s=vehicle" class="cl2">vehicle</a></li> <li><a href="http://www.mywakes.eu/mywakes/?s=fleet management" class="cl5">fleet management</a></li> <li><a href="http://www.mywakes.eu/mywakes/?s=monitor" class="cl4">monitor</a></li> <li><a href="http://www.mywakes.eu/mywakes/?s=drivers" class="cl5">drivers</a></li> <li><a href="http://www.mywakes.eu/mywakes/?s=UBI" class="cl4">UBI</a></li> <li><a href="http://www.mywakes.eu/mywakes/?s=points" class="cl2">points</a></li> <li><a href="http://www.mywakes.eu/mywakes/?s=position" class="cl4">position</a></li> <li><a href="http://www.mywakes.eu/mywakes/?s=layer" class="cl2">layer</a></li> <li><a href="http://www.mywakes.eu/mywakes/?s=GPS devices" class="cl4">GPS devices</a></li> <li><a href="http://www.mywakes.eu/mywakes/?s=can bus" class="cl3">can bus</a></li> <li><a href="http://www.mywakes.eu/mywakes/?s=OBD" class="cl4">OBD</a></li> <li><a href="http://www.mywakes.eu/mywakes/?s=trip" class="cl2">trip</a></li> <li><a href="http://www.mywakes.eu/mywakes/?s=missions" class="cl2">missions</a></li></ol><div class="clear" style="height:7px;"></div></div><div class="footer"></div></div></div>