PhoneWay Pro 2018: the evolution of the GPS phone for security
The GPS tracker designed with security in mind
GPS tracker features speed dialling and SOS panic button.
Man down alarm
The accelerometer detects falls and reduces battery power consumption.
The GPS phone with display
The OLED display allows you to read text messages and select numbers from the phone's contacts list.
Long lasting battery
Low power consumption and power management technology maximize battery life.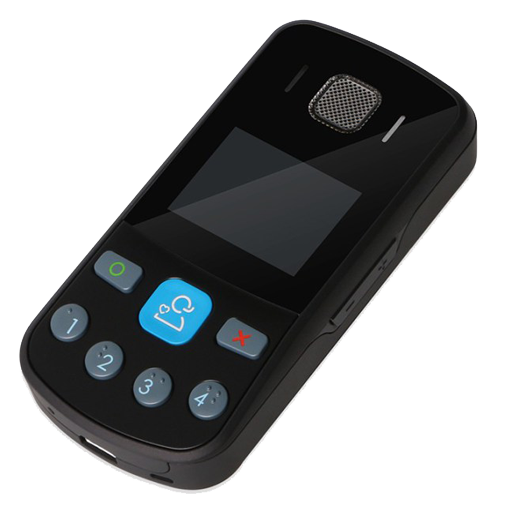 GPS locator and phone
PhoneWay is a powerful GSM phone and GPS locator designed specifically to monitor seniors, children and lone workers.
Maximum security
PhoneWay features four buttons to speed dial stored numbers, as well as a central, readily accessible panic button that can send an SOS alert to designated contacts (relatives, supervisors, control centre or anyone else).
Flexible and configurable
The auto reply function allows authorised numbers to call the phone and speak without the recipient having to press any button.
Set the authorized incoming and outgoing numbers to restrict phone calls to and from authorized contacts.
Extremely long lasting
With an integrated, 3-axis accelerometer detecting motion and using sophisticated power management algorithms, it can maximize the internal battery's running time, which will normally last up to several days.
GPS tracker real time management
Thanks to the Quad-band GPRS/GSM chipset that supports 850/900/1800/1900 MHz, PhoneWay is able to send its position to the MyWakes platform in real time.
In the event of network failure, PhoneWay will start saving the position in its internal memory (up to 10'000 positions) and as soon as the connection is restored, it will send the entire memory to MyWakes.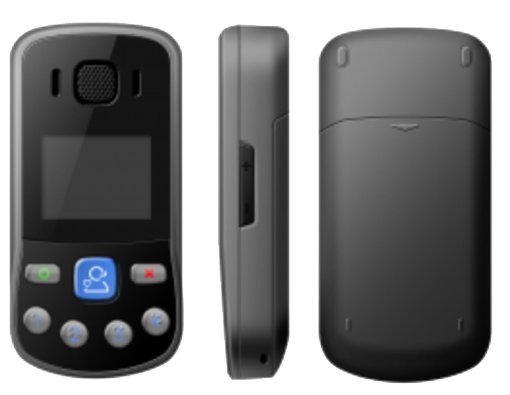 Automatic answer
Call your loved ones or your staff without engaging your hands and without having to press any key.
The GPS tracker that don't miss a point
PhoneWay GPS tracker phone uses its internal memory to save tracks when no GPRS signal is available.
As soon as the signal is restored, PhoneWay will download the buffer onto the platform, showing you all the points.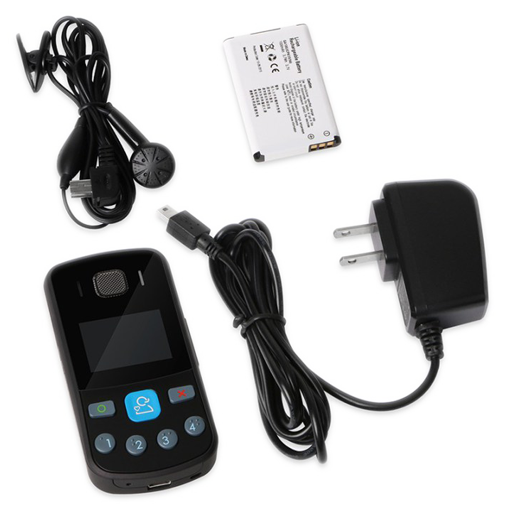 Easy to use
PhoneWay is small, lightweight and sturdy, the ideal safety device for your loved ones and for lone workers; it can be kept in your pocket or handbag thanks to its extremely compact design.
The SOS panic button can be programmed to immediately trigger an alarm, whereas the 4 front panel buttons are designed to dial stored numbers.
It also features a contacts list that can store up to 20 numbers.
Designed for your peace of mind
Featuring an effective 3-axis accelerometer, PhoneWay can detect if the wearer has fallen and will send an immediate alert to the stored contacts list.
To monitor those that are not fully self-sufficient but cherish their independence, you can set virtual geo-fences that will alert you if the person wanders outside a determined safety zone.
Outstanding performance... and faster
Featuring a next generation GPS receiver, it has superior precision and is incredibly fast at triangulating points.
GPS tracker GSM specifications
Frequency
Quad band: 850/900/1800/1900 MHz
Compliant to GSM phase 2/2+
-Class 4 (2W @ 850/900 MHz)
-Class 1 (1W @ 1800/1900 MHz)
GPRS
GPRS multi-slot class 12; GPRS mobile station class B
Receiver Sensitivity
Class Ⅱ RBER 2% (-102 dBm)
Stability Of Frequency / Max Frequency Error
Stand-by
Without reporting: 190 hours
5 minutes reporting: 95 hours
10 minutes reporting: 110 hours
GPS chipset
u-blox All-In-One GPS receiver
Sensitivity
Autonomous: -148 dBm
Hot start: -160 dBm
Tracking: -162 dBm
Position accuracy
Autonomous: < 2.5m; SBAS: < 2.0m
TTFF (Open Sky)
Cold start: 30s average
Warm start: >30s average
Hot start: >1s average
Mini USB interface
For external power and configuration
Volume adjustable buttons
Two side buttons to increase/decrease volume
Dial, reject button
For dialing and rejecting incoming calls or menu selection
Preset number buttons
There are 4 buttons for quick dialing of preset numbers or menu selection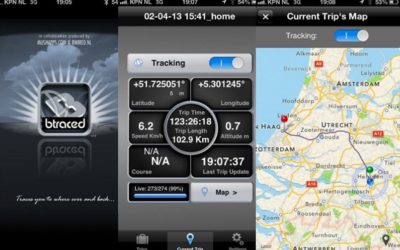 MyWakes supports bTraced: the mobile app that allows iPhone and Android smartphone GPS tracking. Using a smartphone app to track your movements is now possible thanks to the new interface developed by MyWakes for bTraced tracking app. BTraced App is available for iOS...
read more
<style type="text/css"><!--#Cloud .center .content ol{list-style-type:none;padding:0;margin:5px 5px 5px 5px;text-align:left;}#Cloud .center .content li{display:inline !important;padding:0 5px 0 0;}#Cloud{width:300px;left:8px;border:0px;}#Cloud .header{height:20px;display:block;width:300px;color:#797979;font-size:12px;line-height:18px;margin:0;padding-top:5px;text-align:center;text-transform:uppercase;}#Cloud .center{display:block;width:300px;background:#fff;margin:0;padding:0;}#Cloud .center .content{font-family:'Georgia' ,serif;padding:4px;line-height:27px;overflow:hidden;}#Cloud .center .content .cl1{color:#a9a9a9;font-size:10px;font-weight:400;letter-spacing:0;text-decoration:none;}#Cloud .center .content .cl2{color:#a9a9a9;font-size:12px;font-weight:400;letter-spacing:0;text-decoration:none;}#Cloud .center .content .cl3{color:#a9a9a9;font-size:14px;font-weight:400;letter-spacing:0;text-decoration:none;}#Cloud .center .content .cl4{color:#a9a9a9;font-size:16px;font-weight:400;letter-spacing:0;text-decoration:none;}#Cloud .center .content .cl5{color:#a9a9a9;font-size:18px;font-weight:400;letter-spacing:0;text-decoration:none;}#Cloud .center .content .cl6{color:#a9a9a9;font-size:20px;font-weight:400;letter-spacing:0;text-decoration:none;}#Cloud .center .content .cl6{color:#a9a9a9;font-size:26px;font-weight:400;letter-spacing:0;text-decoration:none;}#Cloud .center .content .cl7{color:#a9a9a9;font-size:28px;font-weight:400;letter-spacing:0;text-decoration:none;}#Cloud .center .content a:hover{text-decoration:underline;}#Cloud .footer{display:block;width:100%;height:5px;background-position:-10px -526px;}//--></style><div id="Cloud"><div class="header">Cloud</div><div class="center"><div class="content"><ol> <li><a href="https://www.mywakes.eu/mywakes/?s=cloud" class="cl2">cloud</a></li> <li><a href="https://www.mywakes.eu/mywakes/?s=GPS tracker" class="cl7">GPS tracker</a></li> <li><a href="https://www.mywakes.eu/mywakes/?s=tracking platform" class="cl6">tracking platform</a></li> <li><a href="https://www.mywakes.eu/mywakes/?s=GPS" class="cl4">GPS</a></li> <li><a href="https://www.mywakes.eu/mywakes/?s=Garmin GPS" class="cl6">Garmin GPS</a></li> <li><a href="https://www.mywakes.eu/mywakes/?s=charts" class="cl3">charts</a></li> <li><a href="https://www.mywakes.eu/mywakes/?s=IoT" class="cl4">IoT</a></li> <li><a href="https://www.mywakes.eu/mywakes/?s=Internet of things" class="cl3">Internet of things</a></li> <li><a href="https://www.mywakes.eu/mywakes/?s=developers" class="cl4">developers</a></li> <li><a href="https://www.mywakes.eu/mywakes/?s=sdk" class="cl2">sdk</a></li> <li><a href="https://www.mywakes.eu/mywakes/?s=TomTom" class="cl3">TomTom</a></li> <li><a href="https://www.mywakes.eu/mywakes/?s=localization" class="cl5">localization</a></li> <li><a href="https://www.mywakes.eu/mywakes/?s=georss" class="cl2">georss</a></li> <li><a href="https://www.mywakes.eu/mywakes/?s=flight tracker" class="cl7">flight tracker</a></li> <li><a href="https://www.mywakes.eu/mywakes/?s=google earth" class="cl3">google earth</a></li> <li><a href="https://www.mywakes.eu/mywakes/?s=gpx" class="cl3">gpx</a></li> <li><a href="https://www.mywakes.eu/mywakes/?s=google maps" class="cl3">google maps</a></li> <li><a href="https://www.mywakes.eu/mywakes/?s=POI" class="cl3">POI</a></li> <li><a href="https://www.mywakes.eu/mywakes/?s=senior care" class="cl5">senior care</a></li> <li><a href="https://www.mywakes.eu/mywakes/?s=kml" class="cl2">kml</a></li> <li><a href="https://www.mywakes.eu/mywakes/?s=kmz" class="cl2">kmz</a></li> <li><a href="https://www.mywakes.eu/mywakes/?s=kids tracker" class="cl7">kids tracker</a></li> <li><a href="https://www.mywakes.eu/mywakes/?s=pets tracker" class="cl7">pets tracker</a></li> <li><a href="https://www.mywakes.eu/mywakes/?s=GPS locator" class="cl2">GPS locator</a></li> <li><a href="https://www.mywakes.eu/mywakes/?s=alerts" class="cl7">alerts</a></li> <li><a href="https://www.mywakes.eu/mywakes/?s=alarms" class="cl5">alarms</a></li> <li><a href="https://www.mywakes.eu/mywakes/?s=connected" class="cl4">connected</a></li> <li><a href="https://www.mywakes.eu/mywakes/?s=vehicle" class="cl2">vehicle</a></li> <li><a href="https://www.mywakes.eu/mywakes/?s=fleet management" class="cl5">fleet management</a></li> <li><a href="https://www.mywakes.eu/mywakes/?s=monitor" class="cl4">monitor</a></li> <li><a href="https://www.mywakes.eu/mywakes/?s=drivers" class="cl5">drivers</a></li> <li><a href="https://www.mywakes.eu/mywakes/?s=UBI" class="cl4">UBI</a></li> <li><a href="https://www.mywakes.eu/mywakes/?s=points" class="cl2">points</a></li> <li><a href="https://www.mywakes.eu/mywakes/?s=position" class="cl4">position</a></li> <li><a href="https://www.mywakes.eu/mywakes/?s=layer" class="cl2">layer</a></li> <li><a href="https://www.mywakes.eu/mywakes/?s=GPS devices" class="cl4">GPS devices</a></li> <li><a href="https://www.mywakes.eu/mywakes/?s=can bus" class="cl3">can bus</a></li> <li><a href="https://www.mywakes.eu/mywakes/?s=OBD" class="cl4">OBD</a></li> <li><a href="https://www.mywakes.eu/mywakes/?s=trip" class="cl2">trip</a></li> <li><a href="https://www.mywakes.eu/mywakes/?s=missions" class="cl2">missions</a></li></ol><div class="clear" style="height:7px;"></div></div><div class="footer"></div></div></div>